▷ 4th of July Fireworks in NYC 2023
The July 4th fireworks show in NYC is the largest Independence Day celebration in the country and one of the greatest events of the year in New York. 
The location of Macy's 4th of July fireworks 2023 in NYC will be on the East River, again!
Where To See the 4th of July Fireworks in NYC
Looking for the best places to see the 4th of July Fireworks in NYC this year? Read on for a full breakdown of the streets, parks, and cruises to watch fireworks in New York City.
The list below is compiled of the tried-and-true fireworks viewing spots in New York City from the past few years. For everyone who's planning their trip now and wanting to know the best places to see 4th of July Fireworks in NYC, the list below will give you a start on where to see 4th of July fireworks NYC.
As we get more information on official events, we will be updating these lists to make sure your trip to NYC for 4th of July is as enjoyable as possible
Fun Facts about Macy's 4th of July Fireworks
50 pyrotechnicians are in charge
almost 1,920 shells per minute
at 20 minutes this corresponds to 48,000 shells
there will be 17 different firework patterns
14 different effects
Common Places To See 4th of July Events NYC
01

Macy's 4th Of July Fireworks

Other Events
in
Midtown Manhattan

Our Highlight




One of the most important Independence Day celebrations in the US, the Macy's 4th of July fireworks show is a must-see when visiting New York.

Just after 9pm on 4th of July, the skies light up over NYC's East River. This coordinated fireworks display consists of more than 60,000 shells launched from barges floating in the river. This celebration includes music and a display of red, clear, and blue water shot 300 feet into the air by the New York Fire Department.

Make sure to grab your spot before 9pm in one of the three official elevated viewing spots along FDR Drive for the Macy's 4th of July fireworks: East 42nd Street, 34th Street and 23rd Street.

Likewise, Macy's has recommended in the past some of these iconic New York streets in lower Manhattan as great places to catch the fireworks:

Broad Street and Water Street
Pearl Street and Dover Street
Robert F. Wagner Sr. Place and St. James Place
Pearl Street and St. James Place
Montgomery Street and Cherry Street
Pike Slip and Cherry Street
Market Street and Cherry Street

Click here to see the schedule of events at Macy's 4th of July Fireworks official site.

02

Coney Island Fireworks

Other Events
in
Coney Island & Brighton Beach

After enjoying some of Coney Island's most famous 4th of July activities, like Nathan's Famous Hot Dog Eating Contest, you can stick around and enjoy one of the best places to see 4th of July fireworks in NYC. The evening party begins around 9pm, with fireworks kicking off around 9:30pm and lasts about fifteen minutes.

While not as epic in size or scale as the Macy's 4th of July fireworks, Coney Island has charms all of its own for a 4th of July you're sure to appreciate.
The Best Places to See the 4th of July Fireworks in NYC
If you're planning to go to a public viewing area, note that, typically, backpacks are permitted but coolers, lounge chairs, blankets, and umbrellas are not.
Should you not be able to be in the city to see the fireworks, then be sure to turn on NBC at 8 pm to see the live broadcasting.
01

FDR Drive at East 23rd Street, East 34th Street, and East 42nd Street Fireworks Viewing

Building
in
Midtown Manhattan

We'll start with the official recommendations that Macy's 4th of July fireworks show has shared over the past few years. In addition to the elevated platforms you can enjoy for free (just be sure to arrive early), these are great areas to set up and take in the East River fireworks display.

Since they are popular spots for both New Yorkers and those visiting New York alike, there are sure to be crowds. Our advice? Only bring the essentials and try to get there as early as your schedule allows.

02

Enjoy the 4th of July Fireworks at Gantry Plaza State Park

Park
in
Long Island City

Our Highlight




Gantry Plaza State Park is a beautiful escape right on the East River in Long Island City. The park is very beautifully laid out, with many wooden benches (also with ergonomic design) and dunes with sand and a small green space. There are apartments and small restaurants and cafes lined up on the back of the park. The piers also add a nice touch to the park as well. It's the perfect place to take a stroll while enjoying the Manhattan skyline across the river. Also in sight is the beautiful 59th street bridge that connects Manhattan and Queens.

03

4th of July in the Vineyard!

Other Attraction
in
Dumbo

Our Highlight

Located in Brooklyn, Rooftop Reds is actually the world's first commercially viable urban rooftop vineyard. That means in addition to getting a wide-open view of the NYC skyline, you're also supporting one of the most innovative wine projects in NYC.

This place is also amazing on July 4th – click here to reserve your tickets.

04

Domino Park Brooklyn Fireworks Viewing

Park
in
Williamsburg




Sometimes the best place to see the 4th of July fireworks in NYC is the place you'll enjoy the most. One of our favorite places is the 6-acre Domino Park in Brooklyn's Williamsburg neighborhood.

Especially if you happen to be sightseeing in that part of the city, this open park on the Brooklyn side is a great place to wrap up your day and take in the fireworks show. With its large lawns and ideal location facing the NYC skyline, you're sure to enjoy the spectacle.

05

Flushing Meadows Corona Park Queens Waterfront Fireworks Viewing

Park
in
Flushing

The beauty of having a wide open park like the one at Flushing Meadows is how much space there is, especially for those with young kids who want to play. 

From Independence Day festivities to the fireworks, it's all made more enjoyable when you can spread out with your friends and stay a while.

06

View the 2023 NYC 4th Of July Fireworks On The Water

Cruise
in
Chelsea

Our Highlight

Instead of getting ready to view the fireworks with the crowds and lining up early, why not reserve your spot on a fireworks cruise?

This is a great chance to spend time with the family and get a unique view of the NYC skyline as it gets let up by Independence Day fireworks. Plus, you'll enjoy live DJ music, food, and drinks to celebrate America's birthday.

Many 4th of July fireworks cruise board between 5:30pm to 6:30pm, giving you a three-and-a-half hour experience around the city and putting you in prime position to catch the fireworks just after 9pm.

My tip: Here you find the best 4th of July cruises in NYC.

07

East River State Park Brooklyn Waterfront Fireworks Viewing

Park
in
Lower East Side

Given its spacious lawn positioned with a view of the river, the East River State Park is one of our favorite spots to sit back and enjoy the NYC fireworks. 

A great spot for families, you'll want to bring a picnic and a blanket so you can make the most of the warm New York summer evening. 

08

South Street Seaport, Manhattan Waterfront Fireworks Viewing

Building
in
Financial District




Another spot with a view that's tough to beat, the South Street Seaport in Manhattan is conveniently located where the firework barges are generally positioned. 

Imagine the scene: not only are you in one of the best places to see the 4th of July fireworks in NYC with them taking off in front of you, but you also have a background complete with historic ships and the picturesque Brooklyn Bridge.

As is the case with the more popular spots, you'll want to arrive early to the area. The elevated viewing spots can be accessed via Broad Street, Pearl Street, and Frankfort Street.

09

Brooklyn Bridge Park And Promenade Fireworks Viewing

Park
in
Dumbo




The next-best thing to being on the Brooklyn Bridge to watch the fireworks? Brooklyn Bridge Park and Promenade. With its placement right on the East River, this waterfront park shares incredible views of Manhattan.

For those of you looking for an iconic New York City skyline photo framed by fireworks, this could just be the best spot. In particular, the intersection of Water Street & Washington Street will give you the just-right angle of the Empire State Building and the Manhattan Bridge.

Unfortunately, the Brooklyn Bridge Park is no hidden secret, so it tends to get crowded. If you're planning on staking out your spot, you'll want to arrive early.

10

DUMBO Brooklyn Fireworks Viewing

Districts
in
Dumbo

For a more industrial setting for your 4th of July NYC fireworks viewing, try the hip DUMBO (which stands for Down Under Manhattan Bridge Overpass). Despite having plenty of shops and restaurants, this spot tends to be less crowded for fireworks. 

While that's partially because the view can be a little blocked by buildings, it's also lesser-known by tourists. So if you're looking for a more low-key way to celebrate and you don't mind not having the perfect Instagram photo, this could be a great option for you to catch the show. 

11

FDR Park On Roosevelt Island Fireworks Viewing

Other Attraction
in
Midtown Manhattan

Similar to DUMBO, the FDR Park – a park on the southern part of Roosevelt Island – is a delightfully uncrowded option for taking in the fireworks on the 4th of July.

Thanks to a wide open green area, you can actually stretch out and stay a while. With a show like the Macy's 4th of July fireworks, it'll be worth the wait.

More information on the Roosevelt Island Fourth of July Family Fireworks Celebration is available at the official Roosevelt Island website.
---
Frequently Asked Questions About 4th of July in New York
Can I see the Manhattan fireworks from New Jersey?
Not really, no. Though there have been years in the past that the Macy's 4th of July fireworks have been launched from the Hudson River (the river between New Jersey and Manhattan), they are now primarily launched from the East River. 
It might be possible to catch a glimpse or reflection from New Jersey, but if your goal is to see the big show, you'll want to head into the city.
Is it possible to see Macy's 4th of July fireworks from Brooklyn?
Yes, absolutely. Because the Macy's 4th of July fireworks are launched from barges in the East River (the river that separates Manhattan and Brooklyn), there are plenty of great parks and places in Brooklyn to view the 4th of July fireworks.
Can I watch the NYC 4th of July fireworks from the Brooklyn Bridge?
No. As ideal as it would be, it is not allowed. As in past years, city officials remind New York residents and visitors that the Brooklyn Bridge is not a place to view Macy's fireworks show.
Are restaurants and shops open on the 4th of July NYC?
Tuesday, 4th of July 2023 in the United States is a national holiday. This means that federal buildings, like the post office, and banks will be closed. With private businesses, whether they are open or not is up to them. 
Given that 4th of July 2023 falls on a Tuesday, there's a good chance restaurants and shops will be open as usual throughout the weekend. On 4th of July, though, they may have modified hours. Be sure to check their social media for announcements or call in advance to confirm their business hours.
Do I need tickets for the Macy's 4th of July fireworks?
Fortunately, the annual Macy's 4th of July Fireworks Show is free. Macy's does offer a number of official elevated viewing areas for the event that require showing up early, but there's no need to pay for entrance.
Which side of Manhattan does the Macy's 4th of July show take place?
Continuing a recent trend, the Macy's 4th of July fireworks show will take place on the East River between Manhattan and Brooklyn. 
It does have a history on the Hudson River between New Jersey and Manhattan (it's where the show debuted in 1958), but the East River has since become the home of the annual NYC 4th of July fireworks celebration.
When do the July 4th fireworks start?
The fireworks show typically starts around 9:20 pm while public viewing starts at 6 pm.
How long are the 4th of July fireworks in NYC?
The fireworks typically last for about 30 minutes and are over by 10 pm.
The 35 Best Things To Do this Summer in NYC in 2023
NYC definitely comes to life during warmer weather. People are out and about and enjoying life. Summer in NYC is filled with events and activities that can go late into the night (or even into the early morning hours). Just be sure to keep yourself hydrated because NYC can get very hot and humid.
Our Absolute 35 Things to do in Summer in New York City
You'll pretty much find things to do in the different neighborhoods such as Midtown, SoHo or DUMBO. With so many summer events in NYC, we've curated this list to the best 35. What is New York City like in the summer? Find out in this article!
My tip: here you find our complete guide to Summer in NYC. and here my Fun Things To Do In NYC This Summer.
Most popular tours & activities during summertime in New York
01

Enjoy the view at one of NYC's many rooftop bars

Our Highlight

For us, being at a rooftop bar in NYC in the summer is one of the best ways to enjoy the city. There's a lot of them around this enormous metropolis. Our favorites are the Gallow Green Rooftop Bar, and because of the view of the The Edge at Hudson Yards, we also recommend the 230 Fifth Rooftop Bar. Another highlight is the Westlight NYC in Brooklyn and if you want to an amazing view of the Brooklyn Bridge, Manhattan Bridge, and the Manhattan skyline, then the rooftop bar at the 1 Hotel Brooklyn is an exceptional choice. You're definitely flushed with options.

My tip: Here you can find the 43 Best Rooftop Bars in New York

02

Take an NYC boat tour

Cruise

in

Battery Park City

Our Highlight

Living in NYC, we know how awesome it is to take a boat tour. With the hot summer weather, some summer activities can just be way too hot to move. Sometimes it's just nice to hop onto a boat and feel the breeze while taking in the city views. Even though The East River, Hudson River, and the harbor are usually busy, it can also be very calming. Here, you'll have many options.

You can either take the free Staten Island Ferry, or one of the many boat tours that are included in the sightseeing passes (this is an easy way to save up to 70% on tickets and tours, here you can compare all New York City Passes). Or,  you can sail to the Statue of Liberty.

And if you plan to visit the Statue of Liberty you should check out our 13 Best Statue of Liberty Cruises and the 5 Best Statue of Liberty Tours!

03

Bryant Park Film Festival

Other Attraction

in

Midtown Manhattan

One of the best things to do in July in New York is visiting the free Bryant Park Film Festival and picnic performances in Bryant Park. In the heart of Manhattan, people gather in the summer months with blankets and chairs they've brought themselves to relax at the outdoor movie theater and concerts by the New York Philharmonics. Bryant Park is just under a 5 minute walk from Times Square, surrounded by tall trees, so it's a bit secluded from the rest, but you're still in the middle of it all: Awesome!

04

Visit Governors Island during the Summer

Other Attraction

in

Outside of New York City

It is still one of our favorite things to do in the summer in NYC. Governors Island is amazing during the summer months and it's super-cheap to reach by ferry – just grab the ferry at the southern tip of Manhattan. Here you can enjoy the view of the Statue of Liberty among the New York locals and just watch the city of New York City in peace.

Here you can find our Best Things to do on Governors Island.

05

Smorgasburg Food Market

Food Market

in

Williamsburg

The Smorgasburg Food Market in Williamsburg is one of the best open-air food markets in New York City. It's a place where people meet up in the warmer months to eat, drink and enjoy the view of the Manhattan skyline along the East River waterfront. If you can't make it out to the Smorgasburg, no worries. There are other food markets that you can check out in NYC.

06

Rock yourself on a ship

Sea Food Restaurant

in

Dumbo

Our Highlight

Ok, so you don't really go anywhere on this ship, but right on Pier 25, you will find the Grand Banks. It's a restaurant, that is also a boat. And yes, it rocks with the waves. With a glass of wine in hand and relaxing music, you can look down the Hudson River to the Statue of Liberty. Also, it's new sister ship, Pilot Brooklyn is located in another spot, but is very similar to Grand Banks.

07

Honorable William Wall

Cruise

in

Lower Manhattan

Our Highlight

This is my discovery of the summer in New York – the floating boathouse from Manhattan Sailing Club! It is called Honorable William Wall and is located right next to Ellis Island. Especially in the evening, when you look at the illuminated Manhattan, it is just sensational here.

This is my review (AWESOME!) of the Honorable William Wall.

08

Discover New York from an observation deck

Our Highlight

This should be a part of any New York experience: visiting one of the world famous observation decks and observatories  in New York! You can choose between Empire State Building, The Edge Hudson Yards, Top of the Rock, One World Observatory and the brand-new One Vanderbilt.

Want to know more? Check out our article about the 9 Best Observation Desks New York!

Budget tip

If you want to visit several observations deck, attraction and tours in New York, check out the New York sightseeing passes. You can save up to 60% on the ticket price!

To find out which New York Pass is the best for you, check out my New York Pass Comparison.

09

Enjoy the New York Philharmonic Concerts in the Parks

Other Art & Culture

in

Midtown Manhattan

Do you want to listen to relaxing classical music in the evening? That's not a problem. Summer concerts in NYC of this kind are held in virtually every part of the city. If there are suitable concerts during your travel time, make sure to check them out.

10

Pizza Wine Movie Nights at Rooftop Reds (May through October 2023)

Other Attraction

in

Dumbo

Our Highlight

On a roof of the Brooklyn Navy Yards you can sit in a real winery: Rooftop Reds grows wine here, which you can taste and enjoy at their Rooftop Red Tours & Tastings!

During summer you can watch movies with a view of the skyline and a glass of wine in your hand. Tickets are available here.

11

Visit one of the summer festivals in NYC

Other Attraction

in

Tribeca

In 2002, Robert De Niro and producer Jane Rosenthal created the Tribeca Film Festival to bring life back to the neighborhood near Ground Zero. New York City suffered greatly from the attacks of September 11, 2001, and De Niro's intention in creating the festival was to help New Yorkers out of this deep-seated depression and give them reason to celebrate again. The Tribeca Film Festival has grown over the years, and now all the big names from the film industry show up each spring. There are many associated events like short film presentations, film premiers, and various awards.

But this is just one of the amazing summer concerts and summer festivals you can choose from!

Here you can find my complete list of summer festivals in NYC this year!!

12

Get A Scoop of the Best Ice Cream in New York

Wasabi, ginger, corn, and black sesame may not sound like ice cream flavors, but somehow Sundaes and Cones make it work! Sundaes and Cones have been one of the most famous ice cream shops NYC for the past two decades. Customers have loyally lined up to try their new and innovative flavors for years. They even make beautiful ice cream cakes for every occasion. If you go in the winter, make sure to try their gooey hot fudge sundae for a chocolatey treat.

My tip: Here you find the best ice cream shops in NYC.

13

Eat delicious BBQ in New York

Our Highlight

Barbeques are usually known to be held in the summer. Those two things just belong together. Spending time with good friends, and enjoying some delicious beer is considered a great day.

My TOP 3 BBQ spots are Hometown Bar-B-Que located in Red Hook, Brooklyn, Mighty Quinn's Barbeque with several locations in the city and Dinosaur Bar-B-Que in Harlem.

14

American Museum of Natural History

Museum

in

Upper West Side

The American Museum of Natural History is one of the more popular museums in NYC. If the name sounds recognizable it's because the museum was the center of attention in the movie, Night at the Museum featuring Ben Stiller. Regardless of it's Hollywood fame, the Natural History Museum is a huge institution that features numerous exhibits. This is a great place for families with kids so they can learn about the world's geography, plants, different animal species and many other things.

The American Museum of Natural History is located in the Upper West Side in Manhattan and is the largest natural history museum in the world.

15

Marvel at the fireworks of the 4th of July

Cruise

in

Lower East Side

July 4 is Independence Day is one of the most important events in the US. The fourth of July in NYC is a pretty big celebration. There are fireworks in different parts of the city. In our 4th of July article, you'll find everything you need to know in regards to Independence Day.

Want to read more? This is our ultimate Guide to 4th of July in New York. and these are the best 4th of July cruises this year.

16

Manhattanhenge: Experience a very special summer event in NYC (May 29 & 30 and July 12 & 13)

Other Events

in

Midtown Manhattan

Twice a year, the sun sets at a specific angle. The streets and avenues of New York are set up as a grid. During this time, the sun will align perfectly in between the skyscrapers. This phenomenon is called Manhattanhenge and can be observed in May and July. Do not miss out on this one. What's even just as astonishing is how many people show up and take pictures of this special occasion.

17

Lincoln Center's Summer for the City Festival (June 14 – August 12, 2023)

Building

in

Upper West Side

Summer for the City is the ultimate New York festival with many free events and countless artists celebrating New York's vibrant culture. From June to August 2023, people from all over the world are invited to dance and party together.

18

Free Kayaking on the Hudson River & East River

This is a really cool event that can be booked several times a month: discover New York from the water – and even better: from a kayak! You can start at the Manhattan Community Boathouse (Pier 96 at the Hudson River) or at the Brooklyn Bridge Park between Pier 1 and Pier 2 (every Wednesday, Thursday and Saturday until the end of August).

Seats are limited, so be quick to secure your preferred date – here for the Manhattan Community Boathouse and here for the Brooklyn Bridge Park Boathouse.

19

Enjoy a game of baseball featuring The New York Yankees or the Mets

We've been pretty lucky three times when it comes to baseball games. Compared to many other sporting events in New York, the tickets for baseball games are relatively cheap and therefore also for families which is a great thing. You may even experience some inner-city rivalry when the New York Yankees play against the New York Mets!

Here you get Tickets for New York Yankees or for the New York Mets.

20

Visit Little Island

Other Attraction

in

Meatpacking District

Not far from the Meatpacking District and the High Line, Little Island is one of the newest attractions in New York and is something very special: a park on 132 beautiful tulip-shaped concrete stilts in the Hudson River.

Besides the view, you can visit various events and art exhibitions (every day except Tuesday). Click here for the Little Island event calendar.

21

Shakespeare in the Park

Other Art & Culture

in

Upper West Side

At the Delacorte Theater you can see one of the most famous plays in the world in Central Park. Sounds crazy? Well, it is in New York! In recent years, some stars have made it to the stage as well. Stop by and you might see Meryl Streep, Kevin Kline, Al Pacino, Blythe Danner, George C. Scott or Denzel Washington.

Find out more about the Shakespeare in the Park event in New York and the current dates here.

22

End the evening at a wine bar

Having a fresh glass of white wine in one of the city's many wine bars (many have small tables outside, kind of like Paris) is something we really enjoy doing. It is easy to start a conversation with anyone since you'll most likely be surrounded by New Yorkers. Even though it is late in the evening, it's still nice and warm out. The experience is simply terrific.

Our favorite wine bars are La Compagnie des Vins Surnaturels in SoHo, Corkbuzz in Union Square and The Four Horsemen in Williamsburg. These are just some of the many little spots we love the city for.

23

Take a trip to the Hamptons

Day Trip

in

Long Island City

The Hamptons are a very popular destination to take a day trip from New York and has a very special flair. We've seen the Hamptons already in the winter and in the summer. It's truly a total counterpart to the hustle and bustle of New York City. Especially Sag Harbor, it exudes a relaxed calming environment that is extremely contagious. The small town is almost 300 years old and is surrounded by greenery, the sea, and great beaches. The Hamptons are so worth the trip in the summer and high on my list of things to do in the summer in NYC.

24

Attend the Museum Mile Festival

Museum

in

Upper East Side

Our Highlight

The annual Museum Mile Festival gives you free admission to the most popular museums in New York City. The museums stay open longer as well. The section of Fifth Avenue, known as the Museum Mile, houses nine participating museums. They are El Museo del Barrio, the Solomon R. Guggenheim Museum, the Metropolitan Museum of Art, the Cooper-Hewitt, the Jewish Museum, the National Academy Museum, the Neue Galerie, the Museum of the City of New York and the Africa Center.

Visitors can enjoy countless outdoor activities to the exciting art in the museums. In addition, to live music and artistic highlights, there is always something for everyone. The Museum Mile Festival is a real highlight for culture enthusiasts and perfect for families with children.

My tip: Here you find our 36 Absolute Best Museums in NYC.

Every second Wednesday in July, the concert series "Jazz at Pier 84" takes place – New York and jazz are a combination that I personally like a lot. You sit at the Hudson River and the best part? It's even free because it's a project of Hudson River Park and the Jazz Foundation of America.

To see exactly which act will be at Pier 84 in New York at the time of your trip, check out the event calendar.

26

Head to the beach!

Other Attraction

in

Coney Island & Brighton Beach

Where is the beach in New York? New York City and beaches? Yes exactly! It's pretty awesome to wake up early in the city, spend the whole day on the beach and be back in the middle of the busy metropolis in the evening. To get to the beach is super-relaxed and not expensive at all. With the new New York Ferry, you can go to Long Island for only $4. You start at the East River (Pier 15), past Governors Island and then straight to the beach. Coney Island is also worth checking out.

My tip: this is our full guide to Coney Island and Brighton Beach and here you find our favorite beaches in NYC.

27

Travel through New York City in the Summer via Jetski

Other Tours

in

Outside of New York City

If you take a jet ski tour, you will be guided along many of New York's famous landmarks. A guide is always there and brings you to the spots where you have the best view. The jet skis can go really fast (up to 55 mph) and you just cruise through the water. It's fun, and action is definitely guaranteed. Just make sure to be careful. There are several providers of these tours, take a look at Sea the City Jet Ski,  Jetty Jumpers or Rockaway Jetski!

28

Gay Pride Parade

Other Art & Culture

in

Greenwich Village

Once a year, the Gay Pride Parade takes place in New York and is the most popular LGBT event (lesbian, gay, bisexual and transgender). New York shines in the colors of the rainbow during almost the entire month of June, and every corner (especially in areas around Chelsea and the West Village) dons the rainbow flag.

29

Explore the city by bike

Bike Tour

in

Midtown Manhattan

New York has always been a true bicycle city. The city bike program, Citi Bike makes it easier for people to access a bike. There are many bike paths within the city and designated bike lanes as well. Just grab a bike at one of the many stations (there are over 800) and ride along the Hudson River, for example. It only takes about 30 minutes from Central Park to Battery Park – and if you need a break or stop, the Hudson River Park is perfect for that!

30

Find a hotel with a pool

Hotels & Accommodations

in

Williamsburg

Lying by the pool during the summer in NYC while looking at the city skyline is an absolute luxury. If you have the budget, make sure to stay at the Gansevoort Hotel in the Meatpacking District, The Dominick in SoHo or even the new 1 Hotel Brooklyn Bridge in DUMBO. The latter even has a rooftop bar.

My tip: these are the best hotels with pool in NYC.

31

Cool off at these indoor activities!

Museum

in

Upper West Side

Is it too hot? During the summer in New York, most buildings are air-conditioned which can be a nice change from the heat. That's what one of the many museums in New York is all about! Also very popular are the Escape Rooms, where you're "trapped" inside a room, and must work with your team members to solve clues in order to get out. Another great thing to do when it's too hot is to go shopping! Of course, we have also prepared a suitable shopping guide for New York.

32

Go attend and party at the many festivals in NYC

Other Events

in

Governors Island

Summer is the season for festivals and you have a lot of choices. There's Pinknic, Governor's Ball, Electric Zoo, Summer Jam, and The Meadows Music and Arts Festival – just to name a few. And here you can find the best summer festivals in NYC.

33

Head down the shore

Other Attraction

in

Jersey City

Don't miss out on the amazing things to do down the Jersey Shore in the summer. A little over an hour away by car, the Jersey Shore offers beautiful beaches, great restaurants by the water, adventures, fun boardwalks, nightlife and stunning state parks such as the Island Beach State Park. One of our favorite areas to spend time in is Asbury Park. The vibrant crowds, the history of the town and the many really cool bars are making the trip down the shore even more worth it.

34

Off to the city's parks: Brooklyn Bridge Park, Prospect Park & Central Park

Just below the Brooklyn Bridge is the infamous Brooklyn Bridge Park. Just like Brooklyn Heights, it offers a stunning view of the Manhattan skyline. It also offers tons of green space, fields, and courts. At Central Park, you can either walk around, just relax in the many green spaces or you can rent a boat and go around the lake. Prospect Park is pretty much Brooklyn's version of Central Park. There's a lot of green space and many things to do there in the summer.

My tip: These are the best parks in NYC.
Our TOP 8 tours & activities during summertime in New York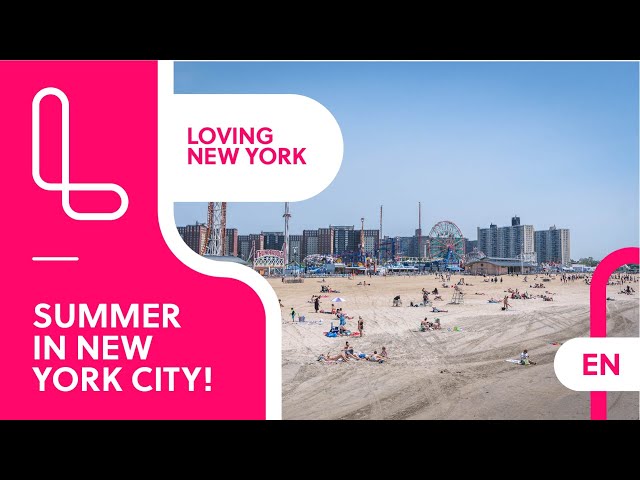 Der Beitrag The 35 Best Things To Do this Summer in NYC in 2023 erschien zuerst auf Loving New York.